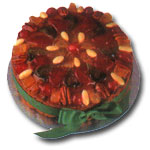 Welcome to All Baking Recipes.com
The collections of baking recipes here covers everything from crisp biscuits and small cakes to rich fruit cakes, gateaux and granary and herb breads. It could be the only site you will need to keep all your favorite cake and baking recipes to hand. The range is vast and you will find every taste catered for.
Kneading dough or stirring a cake mixture is positively therapeutic. And there is something really special about the delicious aroma of your own baking, as you cut into your perfect, rich, newly baked cake or loaf.
Here you will find hundreds of home baking recipes. From quick, plain cakes to exotic gateaux and many other unusual international goodies. Plus a whole range of bread recipes, from the best basic breads to sticky malts and savory grain creations.
Baking Equipments
You do not need vast quantities of cake-making equipment, but it is worth buying the best quality you can afford as it will last longer and give better results. Below are the list of the basic baking equipments you will need:
Scales, measuring jug and spoons
Mixing bowls
Wooden and metal spoons and spatula
Whisk
Sieve or strainer
Food processor and mixer
Rolling pin
Greaseproof (waxed) paper or non-stick baking parchment
Cake tins (pans)
Bun tin (patty pan), muffin tin, loaf tins
Baking sheet
Microwave containers
Wire cooling rack
Sharp serrated knife and palette knife
Airtight tins
Storing Cakes and Breads
Sponges, light cakes and breads are all best eaten soon after baking. Only heavier fruit cakes or rich cakes improve if they are stored, carefully wrapped in foil, in an airtight container.
Biscuits will keep for a couple of days if stored separately in an airtight container.
Most cakes can be successfully frozen if as soon as they are cold they are wrapped in clingfilm (plastic wrap) and a freezer bag and frozen. They will keep for up to three months.